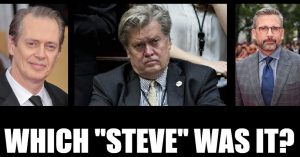 Oh, insufficient evidence– so hard to show in district court after a jury convicts, harder still on appeal with all the "deference" shown to the government.  Yet both were done in United States v. Pauling, where the government sought an enhanced charge and punishment based on five words spoken by neither the defendant nor his co-conspirator.
John Pauling was alleged to have agreed with a supplier named "Low" to sell 100 grams of heroin.  There was proof as to 89 grams, but the government needed 11 more.  So it offered the jury a wiretapped call between Pauling and some guy named "Steve" in which Steve said he wanted "same thing as last time" and referenced the "14th floor."  The government argued that meant Pauling would get 14 more grams of heroin from Low and sell them to Steve, which would put the total of the Pauling-Low conspiracy over 100 grams.  The jury dutifully convicted.
Judge J. Paul Oetken, of the Southern District of New York, would have none of it.  He ruled no rational jury could have found a deal between Pauling and Low to sell 100 grams of heroin.  He thus vacated that conviction, which carried a 5-year mandatory minimum, and entered conviction for the lesser included offense of conspiring to sell any amount of heroin, which has no mandatory minimum.  The government, displeased with a statutory maximum of only 20 years on that count, appealed.
The Second Circuit would have none of that, either.  In an opinion by Judge Denny Chin, joined by Chief Judge Robert Katzmann and Judge Amalya Kearse, the court rebuffed the government's attempt to prove guilt based on "five words– which were not uttered by either Pauling or Low."  Though "the words 'same thing as last time' could have been a reference to a prior 14‐gram sale of heroin by Pauling to Steve, we hold that no reasonable jury could have found beyond a reasonable doubt that those 14 grams were sourced by Low."
There's great language throughout the opinion, which is available here.
Takeaways for the Defense Bar
POSSIBLE IS NOT THE SAME AS REASONABLE.  When challenging sufficiency, inferences must be drawn in the government's favor but they must be reasonable.  And an inference is not reasonable just because it is possible: "[W]e 'may not credit inferences within the realm of possibility when those inferences are unreasonable.'"  Op. at 15.
TO BE REASONABLE, AN INFERENCE MUST BE BASED ON KNOWN FACTS.  "An inference is not a suspicion or a guess.  It is a reasoned, logical decision to conclude that a disputed fact exists on the basis of another fact that is known to exist."  Op. at 13.
SPECULATION — EVEN IF REASONABLE — IS NOT ENOUGH.  Thinking Pauling would get 14 grams of heroin from Low to sell to Steve "may be reasonable speculation, but it is still speculation and therefore is an insufficient basis on which to rest a guilty verdict."  Op. at 23.
PROOF BEYOND A REASONABLE DOUBT MEANS SOMETHING. "[I]n a criminal case, 'the government must do more than introduce evidence at least as consistent with innocence as with guilt.'"  Op. at 14.  "[I]t would not satisfy the Constitution to have a jury determine that the defendant is probably guilty."  Op. at 15.  "While one could argue, based on reasonable speculation, that it was 'likely' or 'probable' that Low and Pauling agreed to distribute an additional 11 grams of heroin, the government had to prove more than likelihood or probability — it had to prove an agreement to distribute (or possess with intent to distribute) an additional 11 or more grams of heroin beyond a reasonable doubt. . . .  [T]he government failed to do so."  Op. at 28-29.